Bring your outdoor solar pathway lights back to life with these easy and affordable steps. Enjoy the long-lasting, bright illumination of restored solar pathway lights!
Most people love having some gentle illumination in their yard during the evenings, but sometimes those solar fixtures can appear dull or damaged. Don't worry — there's no need to purchase new ones! In this blog post, you will learn the best way to restore your home's outdoor path lighting without spending any extra money on expensive replacements!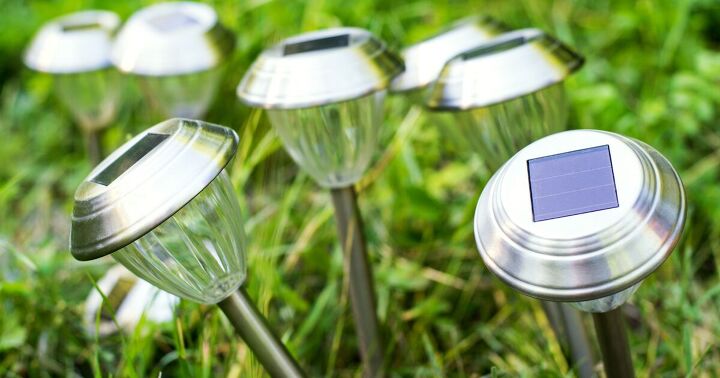 A bundle of silver solar pathway lights in green grass.
This blog contains affiliate links. This means a small commission is earned if you make a purchase by using this link. The price you pay will be the same whether you use the affiliate link or go directly to the vendor's website using a non-affiliate link.
Newsflash! I bought a new undereye-brightening concealer and am feeling the miracle!
The shadows under my eyes are gone and I seem to have a little more illumination for my every day, mid-life eyes. Someone even gave me an "eye compliment" the other day. You better believe it made my day!
Let's compare the miracle of an undereye brightener concealer and solar pathway lights!
Think about it…both brighten, illuminate, and direct (or conceal) shadows in the right direction!
We have LOTS of solar path lights at our house that have "aged out". (The same could be said about my last undereye concealer!)
But I'm not throwing them out! I'm restoring them to new glory!
As we begin the spring and summer months, the idea of eliminating shadows and adding ambient lighting to the exterior of our home is at the forefront of my mind.
Solar landscape lighting is the equivalent of lighting a completely dark room in your home. You want the right lighting with warm light for a lovely glow but with enough brightness to see the surrounding landscape.
Table of Contents
The Aging of Solar Path Lights
We have very nice solar path lights.
Lots of them. Enough to surround the perimeter of our corner lot home.
Our solar path lights have certainly earned their keep. Purchased 4 years ago, I think these Energizer stainless steel LED lights are the best outdoor solar lights available.
Having purchased quite a few different solar lights through the years, I have found these to be a good value as the most durable and best option for our hot summer sun, high winds, and winter freezing temperatures.
But, mother nature has had her way and this solar pathway lighting is showing the effects of aging.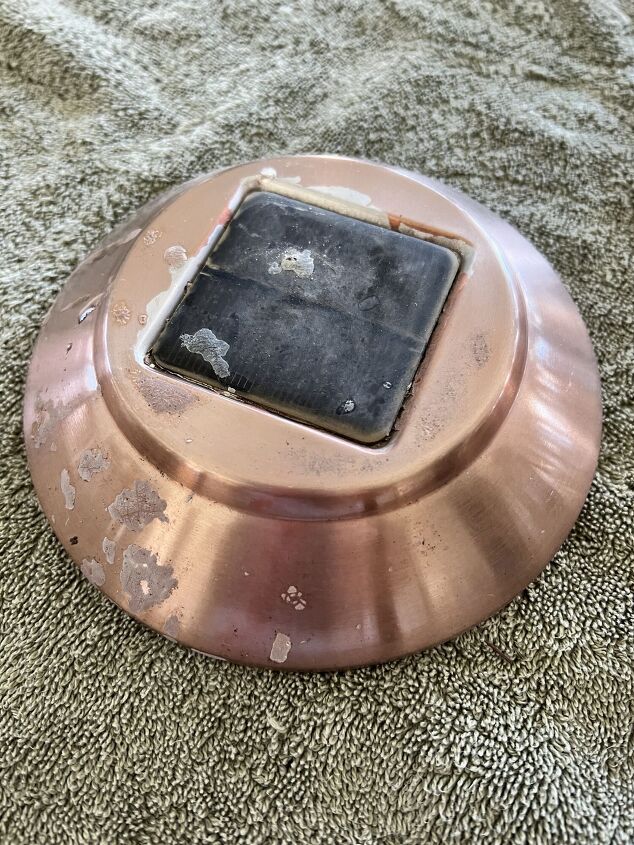 Old solar path light cover with faded copper color and cloudy solar panel.
Exactly what has aged with these lights?
The copper finish has faded or even completely disappeared.
The color is uneven and blotchy.
Some of the poles are bent and dimpled.
And, for most of them, the solar panel is cloudy and splotchy.
However, even though they are faded, cloudy, and shabby, I love these Energizer solar path lights!
What is right about these Energizer solar lights?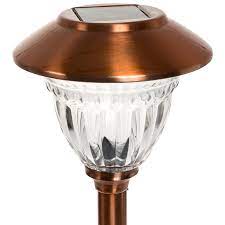 A copper Energizer solar light.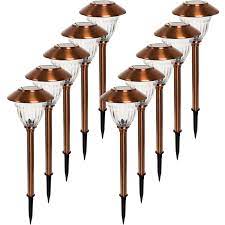 A group of 10 Energizer copper solar lights.
These lights project a lovely warm white light.
The tall height casts a far-reaching light
The light is cast in a dramatic but not obnoxious pattern
The bell shape is traditional yet feels updated
They were a great value and affordable option with 10 lights in a pack.
They have withstood our severe Nebraska weather conditions.
These path lights have been like lovely jewelry illuminating the perimeter of our house.
How to Restore Outdoor Solar Pathway Lights
Rather than buy all new lights, I decided to save my money and restore what we have!
Before you get started restoring your path lights, approach each step with the framework of assembly line tasks. Especially if you have a lot of lights.
Tackling each task like an assembly line kept me focused and efficient as I worked each step.
The first step is to take each light apart, give it a good cleaning, and place it in line with the others!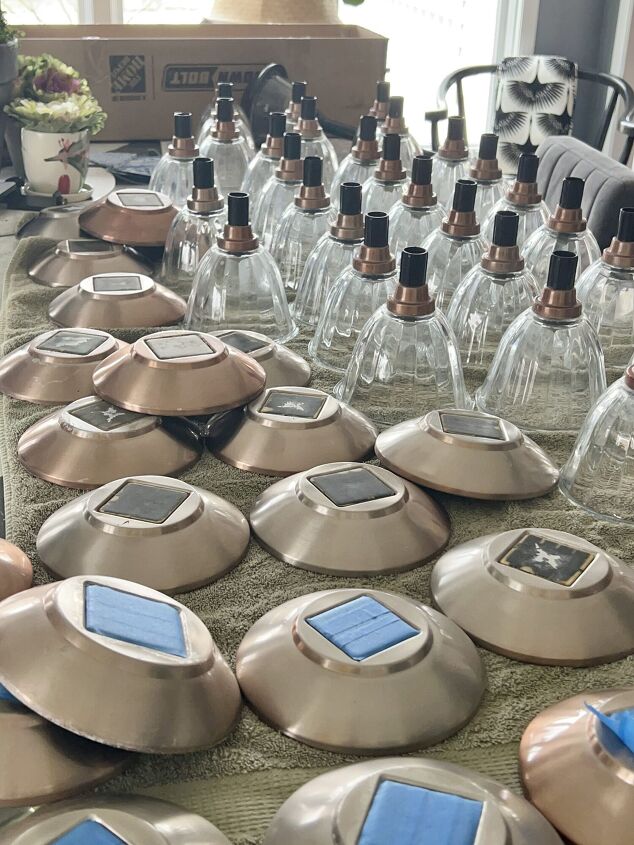 Bunches of glass globes and light covers lined up in an organized assembly line in order to spray paint them.
Poles in one pile, light caps in another, and glass domes in another with the caps and screws tucked in underneath so as not to lose them.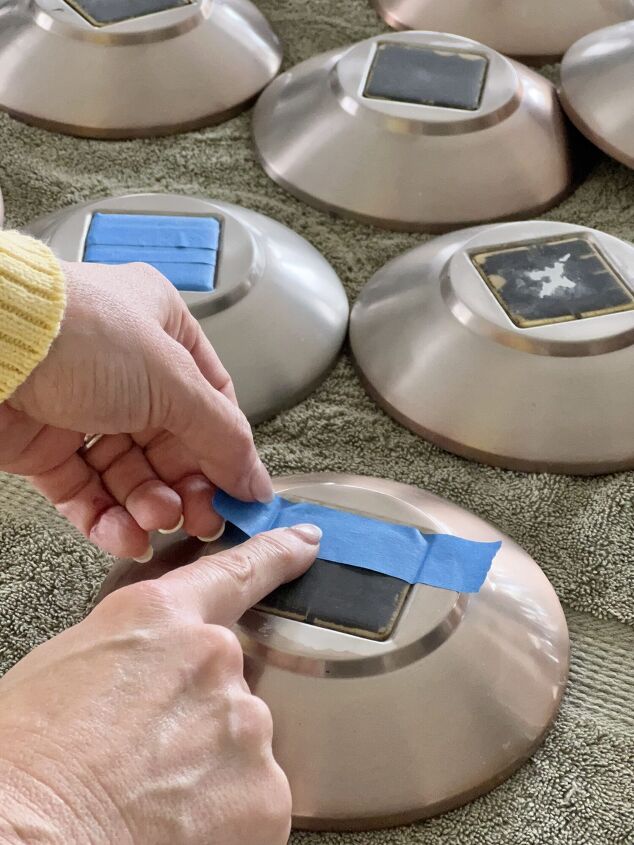 Taping off the solar panel of a light cap with painter's tape.
Next, tape off the integrated solar panel on each light cap with painter's tape. Trim the edge around the panel with a knife and you are ready to paint the lights!
Painting the Solar Lights
I rounded up a couple of large pieces of cardboard and assigned light components for each piece.
Light caps on one and screw caps on another. The poles got special treatment by getting stuck into a large piece of styrofoam that was the inner packaging of the computer monitor we recently ordered.
I decided to go with classic black for my color choice. Not only is this a traditional choice, but this color is the best approach for disguising any metal dents or dimples and a great way to give the lights a quick update.
Using a semi-gloss black protective enamel spray paint by Rust-Oleum, I gave each component section 4 light coats of spray paint. I have used Rust-Oleum in so many different projects because they have so many different colors available!
A Patio Table Makeover
A DIY Outdoor Chandelier
Dresser Makeover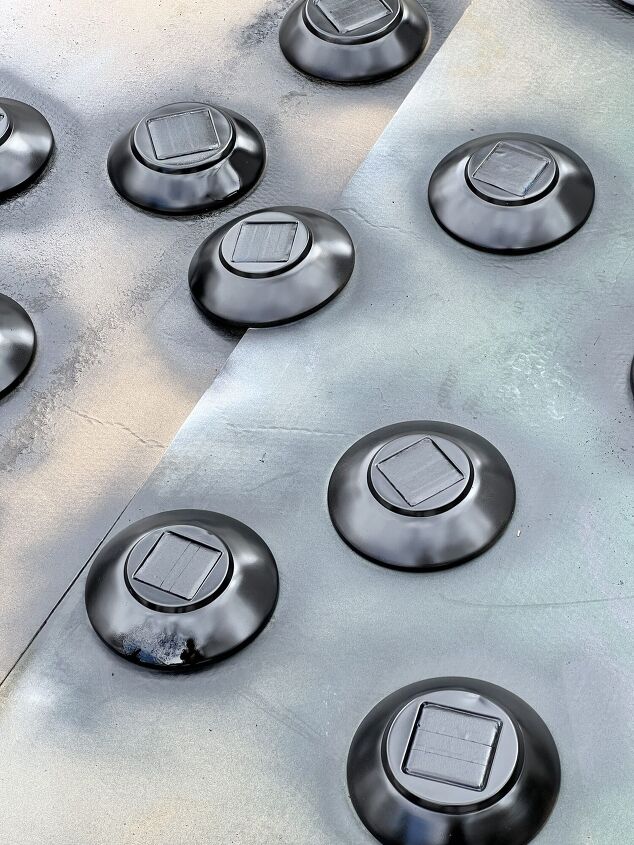 Spray painting the tops of the solar pathway lights a semi-gloss black color.
I probably could have stopped at 3 coats but I want this paint to last a while!
Go ahead and spray right over the taped-off solar panels.
And just keep turning the light poles around and restick them into the styrofoam so you can get both ends covered.
Bentley didn't quite know what to think!
For Complete READING Please Head On Over To Next Page Or Open button (>)